Designed with passion.  Crafted to perfection.
Finished with integrity.
---
We believe that where we are today is a result of the family values and principles we have practiced over the last 35 years.
Our Beginning
---
With a passion for landscaping, an entrepreneurial vision, and dedication toward a dream, Scott Rosenbaum the President and CEO, started Rosenbaum's Landscaping in 1982. 
Growing up in Nyesville on a small farm, Scott developed a strong work ethic and learned important values from his parents that still guide the company's decisions today. Scott's father, Philip, taught the importance of quality and attention to detail and often said:
"If you do things right the first time, it will save you time and money down the road."
Bonnie, Scott's mother, who also encouraged his dreams said two things: that if he gave more than what was expected, his business would flourish and that he could achieve anything as long as he worked hard enough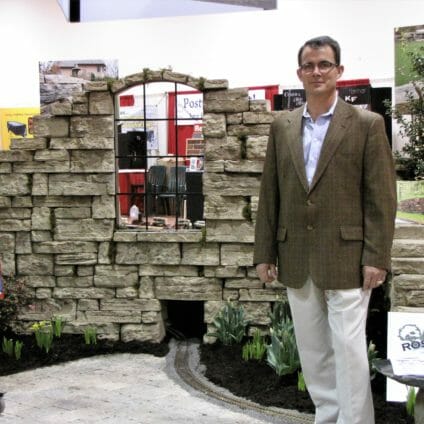 1982
Rosenbaum's Landscaping was started by one man, with one pickup truck, a few tools, and an entrepreneurial dream
1993
The Founders, Scott and April Rosenbaum, introduce their sons to the family business.
1998
The business expands to a 20-acre farm which still serves as the location for the landscaping company and the retail nursery
2015
Rosenbaum's Landscaping and Nursery becomes a second-generation company when oldest son, Alexander, and his wife, Brielle, join the business
These family values and principles have and continue to be our company's moral compass and guiding strategy.
Simply Put: 
We are passionate about what we do

We do it right the first time

We understand and cherish the importance of integrity
Our Mission
To us, quality is not an act, it is a habit. With a resolve to do things right the first time, we are determined to create functional and timeless outdoor living spaces that encourage fellowship among family and friends.
Our Vision
To enrich the lives of those who encounter our landscapes.
Our Values
Driven by passion and rooted in integrity, we are focused on providing exceptional landscapes that bring people together.
Scott Rosenbaum
President and CEO
April Rosenbaum
Accounting and HR Manager
Alexander Rosenbaum
Operations Manager
Misty Whitsel
Office Administrator
Shane Beckner
Designer and Estimator
Brielle Rosenbaum
Marketing Coordinator
Knowledgeable and helpful – the prices at the retail nursery were fantastic and reasonable compared to others. We will definitely be return customers!
Sadie Cover
Quality service... quality people! I highly recommend Rosenbaum's Landscaping.
Todd Smith
5 stars for sure! I would highly recommend this place and look forward to doing business with them in the future.
Ellen Fisher